Get a cleaner, faster and secure PC with Total PC Care
24/7 Expert Support by
phone, email and chat.

Boost your
PC's speed

Easily uninstall unnecessary software you
don't need

With a single click, your junk files
are things of past

Schedule automatic
Tuneups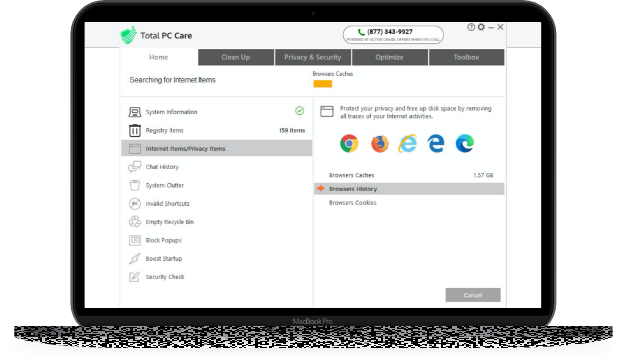 Keeping your PC clean and safe was never this easy
Within a few seconds, your PC will start functioning as if it were new.
Keep your registry in check for uninterrupted performance

The best way to get your windows OS to work at its true potential – with almost negligible crashes and errors, is to let our software fix your registry as fast as possible.

Clean Up disk space for faster performance

Do browser traces, cache files, programs leftovers, and tracking cookies slow your system down?
Not anymore because PC clean does all the heavy lifting for you.
An all-round PC optimizer and tuneup tool for enhanced performance
It caters to every single aspect a PC needs to perform at its optimal level for improved PC performance.
Memory Boost

Boosts memory by making sure unnecessary programs don't run in the background.

Ensures your Router's Security

Keep a regular check on a router for security flaws, and when it finds any risk, it takes prompt action against it.

Faster Startup

Stops programs from running automatically during the boot time; thus, your PC boots faster.

Clean Privacy Files

Removes privacy items that aren't easily visible to keep your PC from risks

Crackdown Duplicate Files

Find duplicate files, photos, and videos to remove them
Stability Report

Our software finds out the root cause of the problem, then illustrates why system applications can't remain stable and fix them with just one click.

Windows Repair

Find issues in seconds and resolve them even faster to keep your PC working efficiently.

Remove Junk Files

Junk leftovers no longer clutter disk space and their removal will make you PC agile than ever.

Registry Scan

Scan Windows registry to ensure no unnecessary or invalid items take up useful space.
24/7 Customer Support
Our dedicated team of customer support is always available to hear from our customers and satisfy them by solving their queries.
Hassle Support
Our "best efforts" support was created to solve any issues that you may encounter.
Dedicated Support Service
We measure our success by customer happiness. We are available 24 hours a day 7 days a week.
Why is your PC not performing the same way as it used to?
If you're worried about it not performing at its optimal level, then you're not alone. Almost everyone who uses a PC to perform professional or personal tasks comes across the same problem almost every other time. It happens because of accumulated gunk, cluttered windows registry, filled up memory, etc., that slow down your computer and cut its life short. Not when you use our PC Cleaner software that navigates all such common issues before they ever become issues.
Faster windows startup and shutdown speed
Nowadays every program wants to run in the start-up and shut down routine loop, which adds up to the speed of booting time. Our PC cleaner software makes things easy by empowering you to select which programs or applications should load automatically during both start-up and shut downtime. This helps reduce booting time.
A faster & secure Windows
Download Total PC Care cleaner to keep your PC optimized and secure. Websites leverage trackers and cookie files to track our online activities. Our PC cleaner scrubs out cookies and, often, hidden files to ensure your data safety and privacy from online thugs.
The right approach to faster and secure performance
Total PC Care Cleaner cleans out every single thing that stacks up to slow down your PC's performance. On top of that, this simple yet effective tool vigilantly looks out for loopholes that make your PC vulnerable to security threats.
Check Out Our Pricing Options!
If you are planning on buying Total PC Care PRO, check out the different packages and options below.